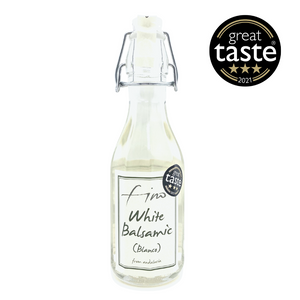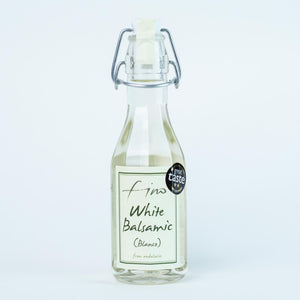 "WE JUST LOVE FINO WHITE BALSAMIC - DELICIOUS ON EVERYTHING!"
"FINO WHITE BALSAMIC IS UNBELIEVEABLY DELICIOUS - 100% RECOMMENDED"
"THE WHITE BALSAMIC MUST BE AMAZING - I OPENED IT WHEN MY MOTHER CAME TO STAY AND SHE STOLE IT! MY NEW ORDER HAS JUST ARRIVED AND I CAN'T WAIT TO TRY IT"
"THIS WHITE BALSAMIC IS THE ABSOLUTE BEST"
"THE MOST DELICIOUS WHITE BALSAMIC VINEGAR. FANTASTICALLY SPEEDY DELIVERY TOO"
"LOVE THE PRODUCTS, MY FAVOURITE IS THE WHITE BALSAMIC - USING A LOT AT THE MOMENT"
A 3-STAR Great Taste Award winner in 2021 Fino White Balsamic (Blanco) is a real find. This Andalucian gem has a real zing as well as sweetness and mixed with Fino Extra Virgin Olive Oil it will make your salads very special.
Fino Balsamic Vinegars come from the Cordoba region of Spain. Both the White and Dark Balsamic, along with the Arrope, are produced by absolute perfectionists at Bodegas Navarro, where skills have been passed down from father to son through the generations for over 150 years. When you try them you will understand why both balsamics are Gold Great Taste Award winners.  
Fino Balsamics do contain natural sulphites coming from the grape itself - there is nothing added.