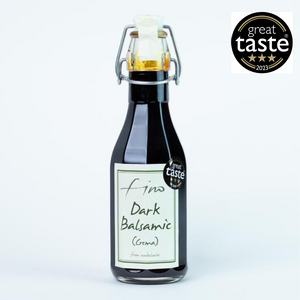 "TOTALLY DELICIOUS, THE BEST AND ONLY BALSAMIC TO BUY"
"YOU CANNOT BEAT FINO BALSAMIC - SO TASTY ON ANYTHING"
"I CAN'T RAVE ABOUT THESE SCRUMPTIOUS PRODUCTS ENOUGH! THE BALSAMIC IS THE BEST I'VE EVER TASTED"
"DARK BALSAMIC IS THICK AND DIVINE"
"OH MY GOODNESS THESE PRODUCTS ARE DELICIOUS - THE DARK BALSAMIC (CREMA) IS THICK AND LUSCIOUS, AND AS FOR THE ARROPE, WOW I'M NOT SURE WHAT TO TRY IT ON NEXT"
We were absolutely delighted to find out that once again our Dark Balsamic (Crema) had been awarded 3 Stars in the 2023 Great Taste Awards, but now to top that it has been crowned as the Great Taste 'Golden Fork From Spain 2023' winner!!! This is such an honour, and huge affirmation of the quality of the product. Once you try it we're pretty sure you'll understand why.
Fino Dark Balsamic (Crema) comes from the Cordoba region of Spain. It is made from the must of the Pedro Ximenez grape which is firstly reduced, then partially caramelised before being aged in oak barrels for 25 years. Produced by complete perfectionists at family run Bodegas Navarro, their skills have been passed down from father to son through the generations for over 150 years.
Just add to Fino Extra Virgin Olive Oil and grab some warm bread for dipping, or drizzle over salad. It's particularly good with fresh tomatoes.

Fino Balsamics contain natural sulphites coming from the grape itself - there is nothing added.