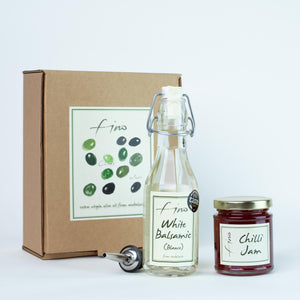 A fantastic present for any foodie - choose from The Village Olive Oil, Chilli Oil, Dark or White Balsamic or Fino Arrope which will come in a 250ml bottle, along with a jar of Fino Chilli Jam or Fino Chorizo Jam - packaged in a stylish Fino gift box so you won't even have to wrap it!
Fino Extra Virgin Olive Oils come from the olives grown on the small fincas surrounding the white washed village of Casarabonela in southern Spain where they are ripened by endless long days of sunshine until the harvest begins in November.
Fino Balsamic Vinegars come from the Cordoba region of Spain. Both the White and Dark Balsamic, along with the Arrope, are produced by absolute perfectionists at Bodegas Navarro, where skills have been handed down from father to son through the generations for over 150 years. When you try them you will understand why both balsamics are Great Taste Award winners.
Fino jams are made here in the UK.
Pack contains one 250ml bottle, one jar and one chrome pourer.
If you would like us to write a note and send direct then we will more than happily do so - just send us an email and let us know what you want us to say. We can also gift wrap - just make sure to add it to your order.