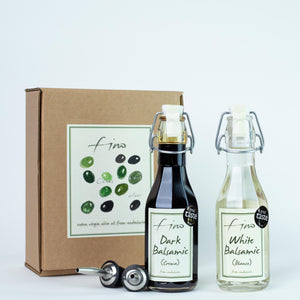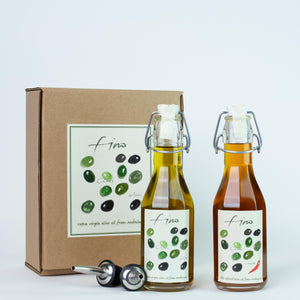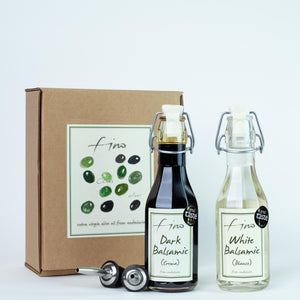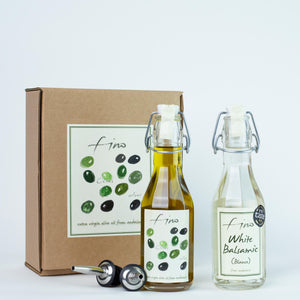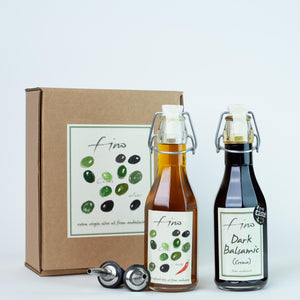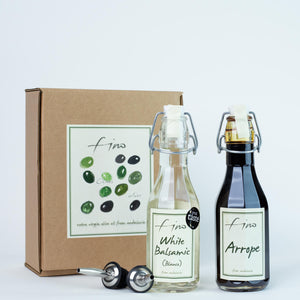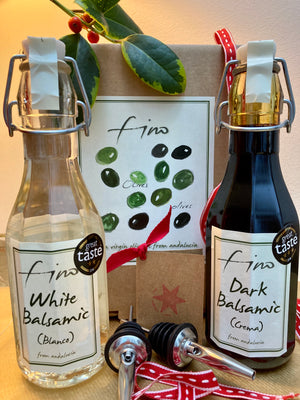 "ORDER ARRIVED SO QUICKLY AND BEAUTIFULLY PACKAGED - I AM LOOKING FORWARD TO GIVING THESE AS PRESENTS AT CHRISTMAS"
These Fino gift boxes come with two of our 250ml bottles, packaged up with two chrome pourers. Choose from The Village Olive Oil, Chilli Oil, our 25-year aged Dark Balsamic, our 2021 3-STAR Great Taste Award winning White Balsamic or Fino Arrope. Whatever the combination it makes a great present for a foodie.
Fino Extra Virgin Olive Oils come from the olives grown on the small fincas surrounding the white washed village of Casarabonela in southern Spain where they are ripened by endless long days of sunshine until the harvest begins in November.
Fino Balsamic Vinegars, also from Andalucia, come from the Cordoba region where the dominant grape variety is Pedro Ximenez . Both the White and Dark Balsamic, along with the Arrope, are produced by absolute perfectionists at Bodegas Navarro, where skills have been passed down from father to son through the generations for over 150 years. When you try them you will understand why both balsamics are Great Taste Award winners.
If you would like us to write a note and send direct then we will more than happily do so - just send us an email and let us know what you want us to say. We can also gift wrap - just make sure to add it to your order.